Rahilly's
Recipes
https://www.rahillysiga.com/Recipes/Detail/31/Pork_Chops_with_Glazed_Apples_and_Onions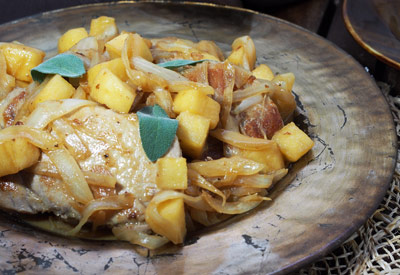 Pork Chops with Glazed Apples and Onions
Customer Rating:
2 Ratings 0 Comments
Yield: 4 servings
Preparation Time: 10 minutes, Cook time: 15 minutes
Nutrition Facts
Yield: 4 servings
Approximate Nutrient Content per serving:
Calories:
291
Calories From Fat:
99
Total Fat:
11g
Cholesterol:
68mg
Sodium:
104mg
Directions:
In a Dutch oven or large skillet, cook pork chops on both sides, in hot oil, over medium-high heat, for 5 to 7 minutes. Reduce heat to medium; cook until done, about 5 to 10 minutes. Remove from skillet; keep warm.

In same skillet, over medium-high heat, add 1 to 2 tablespoons of the apple juice, to deglaze the pan, and cook onion in pan drippings until tender; stir occasionally. Add apple; cook for 5 minutes more or until tender.

Stir in the rest of the apple juice and mustard; heat through. Spoon onion mixture over pork chops; garnish with sage leaves and serve immediately.
Photo and food styling by Webstop
Please note that some ingredients and brands may not be available in every store.
Rahilly's Recipes
https://www.rahillysiga.com/Recipes/Detail/31/Pork_Chops_with_Glazed_Apples_and_Onions